A Strategic Look At Your Health And Safety Culture
Tired of more paperwork, more red tape, more worry about risk, and dealing with another health and safety incident? Let's take a strategic, top-down look at your company's attitude to health and safety. Our health & safety culture surveys enable you to understand, in a measured way, where improvements to the 'way we do things around here' need to change. Reduce stress, improve staff buy-in to an effective health and safety culture, reduce injuries and compliance costs by commissioning a health & safety culture survey.
Step back from a one-dimensional approach of just more compliance. Take a strategic look at your health and safety culture. Let's measure what you already have in terms of attitudes to health and safety, and why these attitudes exist. When you think about it, it's essential that everyone is intrinsically motivated when it comes to workplace safety: and realises it's not simply a matter of following process and filling in forms, its about people doing the right things naturally (rather than forcing them).
Health & Safety Culture Survey
What do you, your board, management and employees think are the attitudes to health and safety in your organisation? Rather than guess or assume that everyone and we mean everyone, buys into best efforts to manage health and safety let's find out. Our surveys provide you with definitive answers, pinpointing where change is needed. We give you that all-important 'stake in the ground', enabling you to measure the current situation, follow the progress in changing attitudes and reducing compliance costs.
reduce stress and complexity
know exactly how to best resource health and safety
know what drives your health and safety culture, and how to make fast sustainable changes
Make a start to simplify your health and safety practices
Health and Safety Culture Index
The Health and Safety Culture Index delivers a big picture view of your organisation's workplace culture. There are five major steps on the journey towards achieving a mature health and safety culture.
In combination with the detailed information provided by Concordia's H&S Culture Survey, the Index score provides boards, executives and safety managers with a quick way to establish progress on the way to a mature safety culture and zero harm.
The Health and Safety at work Act 2015 means you need to know where on the five step journey your organisation is.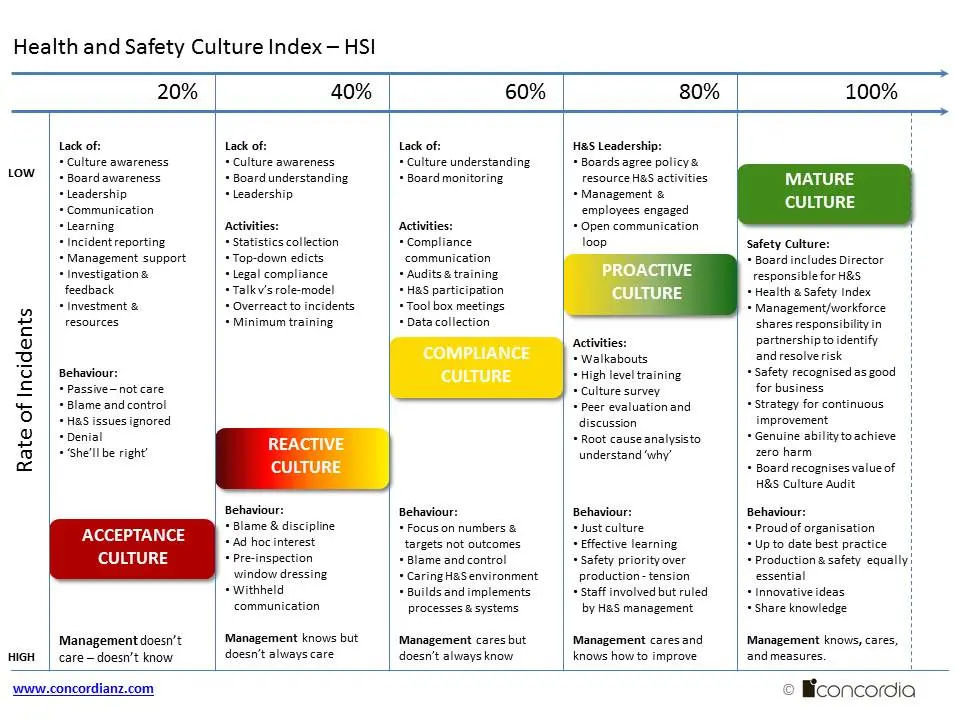 Benefits of a Mature Health & Safety Culture
An effective and mature safety culture is well proven to benefit employees and business results. A mature safety culture :
improves safety leadership
decreases incidents
reduces costs and risk
increases productivity
enhances business reputation
The question is: How do you identify and understand employee and management perceptions about health and safety so that you know exactly where there are opportunities for improvement?
Safety Culture Survey and Assessment
This is where our Safety Culture Survey and Assessment proves its worth, providing your business with that essential 'stake in the ground'. The Health and Safety Culture Survey clearly shows strengths, areas of risk, and opportunities for improvement. The Survey measures lead indicators, rather than what has already happened. It provides clear information and a map of where to prioritise improvement activities and resources. Based on this information, an informed improvement strategy and targeted activities will deliver:
Employees will feel more valued, and will take ownership of resolving Health and Safety issues
Increased productivity and less down-time
Improved business reputation Higher leadership commitment to safety improvement and outcomes
Improvement initiatives will be targeted and cost-effective
Preventable risks and accidents identified
Continual safety improvement becomes recognised as a legitimate strategic goal
Accident prevention becomes a core value
Union buy-in and support
Reduced insurance costs
The End Goal
Consider an effective Safety culture as a way of working rather than simply complying with a set of rules and regulations. It should be included as a key business strategy, championed by senior management, and measured regularly to provide clear measures of progress towards zero harm. Everyone from employees, safety managers, finance and business managers, leadership teams and the board will appreciate the benefits a mature safety culture brings to their wider business objectives and overall business results. And there will be less stress.
Arrange a no-obligation meeting to discuss how you can easily and effectively improve your workplace safety culture, and reduce incidents in your workplace. As well as greater productivity, a reduction in cost and risk, an improved safety culture is a key differentiator that enhances employee engagement, loyalty and customer satisfaction.
Have a question? Contact Us
Concordia assisted us in creating a clear engagement and communication plan for our front-line staff. With their assistance we were able to achieve a 92% return rate of surveys across our network. Into the future we are planning to re-engage Concordia with follow-up surveys, and unreservedly commend their services.
Given Concordia's excellent performance and the impact the survey has had on our business we are increasing the scope to include all our national business units this year.